Free Wheelchair Mission
A humanitarian non-profit organisation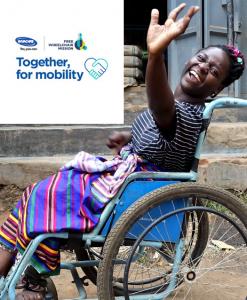 A humanitarian non-profit organisation
There are 75 million people in the world who need a wheelchair, too many of these people live in under-resourced nations and are suffering because they are unable to afford a wheelchair.  Invacare has partnered with Free Wheelchair Mission to support these individuals.
Improving the quality of people's lives and "making life experiences possible" is Invacare's primary mission. However, being the leading company in our business is, in our opinion, not only about creating revenue, but it's also about taking social responsibility. Following that, Invacare Europe is delighted to announce today that we have teamed up with Free Wheelchair Mission to help people in this world who are most in need; Together, for mobility.
Free Wheelchair Mission is a humanitarian non-profit organisation that designs and manufactures wheelchairs at no charge for people with disabilities living in under-resourced nations. Since 2001, they have distributed more than one million wheelchairs. Their big ambition is to provide another million wheelchairs by 2025, and we at Invacare Europe want to help them reach their goal in the best way we possibly can.
Together with Free Wheelchair Mission, we discussed how they could benefit from our experience and knowledge and how we could support them. Since the very first day, we were impressed by their work and offering our support came naturally. We want to help people all around the world, especially those who cannot afford a wheelchair.
 
"Invacare Europe is delighted to be supporting such a great cause and is looking forward to sharing our industry knowledge and expertise with Free Wheelchair Mission to help boost their target. This partnership will embody and be our duty to Social Responsibility, while supporting our brand promise of "making life experiences possible"." Ricardo Perez, VP Marketing EMEA
 
Invacare will help Free Wheelchair Mission raise awareness in Europe of their activities and generate further opportunities for donations and sponsorship, share knowledge and expertise in several areas such as product development, and assist them with wheelchair health and safety regulations standards. Invacare will also promote Free Wheelchair Mission's case studies through digital platforms to encourage others to get involved and support in any way possible.
Get more details click on the link: www.freewheelchairmission.org