Jason Watt
Danish racing driver, Motivational speaker, Team Manager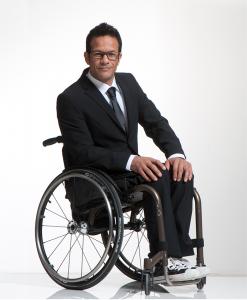 "I always go for the best on 4 wheels, whether it is a racing car or a wheelchair, I like to be well-driven"
Danish racing driver, Motivational speaker, Team Manager
Jason Watt started karting when he was 10, and after many successful years he became a professional racing driver. Jason's career went well and after a 2nd place at the Formula 3000 World Cups in 1999, he was close to getting into the Formula One.
But a tragic motorcycle accident ends up costing him the convenience. Today he is paralyzed from the chest down.
Jason Watt is a true fighter and quickly proved he could fight his way back to motorsport. Already a year after the accident, he was on the start list in the DTC. He made a comeback in a hand operated race car and with determined training and high speed he entered the Danish championship in DTC in 2002. Jason is the first and only person with a disability to have won a national championship.
Today, Jason has stopped his own active racing career, but he is still deeply involved in the sport. Today Jason is team manager for his son Noah watt, who is a rising star in international motor sports. Jason was also trainer and coach on the Danish tv show "Jason and the Soldiers", which was shown in 2013. In the show Jason helped a team of veterans to start a racing team. A TV show, in which Invacare's former ambassador Christian Richardson also participated.
In addition to motorsport, Jason is a successful inspirational speaker focusing on motivation and winning mentality. In his talks, Jason speaks about his life, before and after the accident, and shares some of the thoughts and decisions he has made in his life and career after the accident.
Jason Watt has been using Invacare's manual wheelchairs ever since the accident, and today he uses a Invacare's Küschall "The KLS", this unique model, ensuring him the best possible quality and performance.