Rafa López Ordonez
Ironman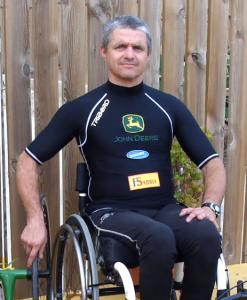 Ironman
Rafa López, paratriathlete is sponsored by Invacare Spain and is European Iron Man Champion 
Rafa López became a paratriathlete after he had a motorbike accident.  Rather than put a stop to his active life, his injury led him to throw himself into sport.  He was motivated to try triathlon because of a range of videos he watched of a Belgian Paratriathlete practicing long distance triathlon.  The videos really spoke to him and convinced him that this was something he could do. Rafa sees triathlon as the most complete sport and for him, it is now a way of life.  Since his accident, he has focused on sport for his wellbeing and triathlon is his passion and what keeps him so active.
But there's more to Rafa's life than just sport.  He combines his sport with volunteering projects whereby his overriding goal is to help people who have suffered accidents and suddenly find themselves wheelchair-bound like him.  He helps with rehabilitation, and advises disabled people about what sport they might pursue, as a way of helping them to start a new life after their injury.  Rafa helps get beginners started by working with them to prepare their training and then motivating them to achieve their goals.  He is well-known in sporting circles for the tremendous support he provides.
What drives Rafa is the fact that he's in a wheelchair and there's no getting away from that. He wants to be as effective as anyone who can walk and gets immense pleasure from looking a hard challenge square in the eye.  Sport is his way of proving to himself that he is still alive.
Rafa recently won the European Iron Man Championship (long distance triathlon) and is already preparing his competition calendar for next year.  In fact he has his sights set on preparation for The 2016 Rio Olympic Games where triathlon will included as an Olympic Sport for the first time.