Renè Nielsen
Motivational speaker, Mental coach, Invacare Sports Ambassador and much more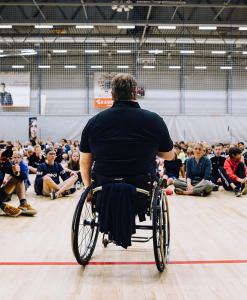 "Yes, you can" is a phrase you have to keep in mind, before feeling sorry for yourself
Motivational speaker, Mental coach, Invacare Sports Ambassador and much more
Renè Nielsen is a several times European Champion and World Champion in athletics. He is a Paralympic gold, silver and bronze medalist respectively in javelin, shot put and pentathlon.
Renè is always passionate and positive about life's challenges both on and off the field. Renè Nielsen has been an Invacare Sport Ambassador for many years.
In 1991, René Nielsen lost both his legs in a train accident, and had to rethink his dream of becoming a full-time professional handball player - René therefore threw himself into para sports with the aim of winning the Paralympic Gold Medal at the Paralympic Games. This happened in Sydney 2000 in javelin throw!
After several years in parasport, René started as a mental coach and has worked with famous football players and other athletes. In 2011, a Danish TV show "HERO-GALLA" honored Renè Nielsen for his attitude to life.
René is a popular speaker, facilitator and mental trainer both in Denmark and abroad. The topics which René lectures and workshops around is about change, mental training and responsible community.
Renè prefers the Küschall chairs (R33) for his everyday life, as it gives him freedom, energy and an attitude to affect others in the best way and make his days easy and effortless.
 
Find out more on Renè click here.
1993 World Champion, Nice, Water skiing – trick
1998 World Champion, England, Javelin throw
2000 Paralympics Sydney – Gold, silver and bronze, F56
2002 World Champion, France, Javelin throw
2004 Paralympics Athen, 2 x bronze, F56
World record holder, Javelin throw