Tommy Urhaug
Table tennis player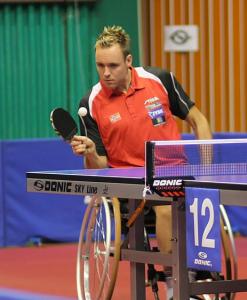 I am depending on very skilled people to help me find the right product that fits me perfect.
Table tennis player
Tommy Urhaug is the leading Norwegian disabled table tennis player ranked as number 2 in the world ranking. He was born in 1980 with a congenital disability; however, this has not prevented Tommy from being active and involved in sports! It was at the age of 15 that Tommy discovered his talent as a table tennis player. He chose tennis as an optional subject in secondary school, and with his father as coach, the training continued also after school. The training proved to give him a prosperous career within the sport.
The big breakthrough came in 1999 when he won two gold medals (single and team) in the European Championships in Slovakia. His presentation made him qualify to the Paralympics in Sydney 2000. In total, Tommy has won 7 gold in European Championship, 4 gold in World Championship and bronze from the Paralympics. In addition, he has received the award "The disabled athlete of the year" in Norway three times. Now new gold medal opportunities are approaching!
Tommy Urhaug is a table tennis player. He is married and has one child. He devotes most of his time to table tennis. He travels all around the world to participate in different championships.
Goal during PL in Beijing : Gold in singles and Gold in team tournament