The Invacare Kompas is our lightest, most compact, folding power wheelchair. It has been smartly designed to enable individuals to maintain active and independent lifestyles. Created with a slimline manual wheelchair chassis and neatly placed power controls, the Invacare Kompas is easy to use, transport and store.
A sleek and simple one-step folding mechanism allows the Kompas power wheelchair to fold in seconds without having to remove the battery pack. With an impressive frame weight of less than 21kg, the Invacare Kompas is a first choice when looking for an easy to use, yet robust power wheelchair.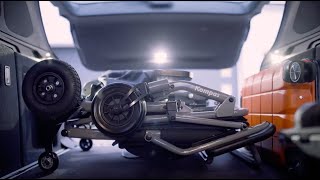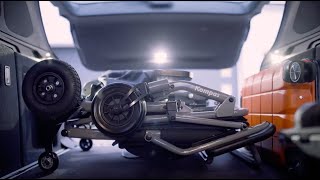 Get where you want to go and travel without limitations.
Its high-quality controller indicates remaining battery charge, facilitates easy speed adjustments and nimble movement control. Our Invacare Kompas wheelchair is the perfect solution for those wanting to get the most out of life.
Key features
Height Adjustable: For taller clients, the Invacare Kompas wheelchair equipped with a height-adjustable backrest that provides extra support and comfort. The supportive flip-up and anti-skid pedal are equipped with three height adjustments for enhanced comfort.
Lightweight Frame: Though it's equipped with many features the wheelchair only has a frame weight of less than 21kg, making it easy to lift without additional help.
Removable Lithium-Ion Battery: Although it can be easily removed, thanks to it's convenient design there is no need to remove the battery pack when folding the wheelchair. The airline-approved removable battery also features an additional charging port and battery indicator for additional user-friendly operation.
One-step Folding Mechanism: Folding and unfolding this power wheelchair is a straightforward process thanks to an easy to locate lever. The one-step folding mechanism makes it quite easy to fold the power wheelchair to a compact size of 590 x 370 x 810mm.