The new Esprit Action has moved forward with technical precision. Every part of its new design has made progressive steps to achieve its goal. An extensive customer-led design programme has made the difference, we have listened to customers' and end users' feedbacks to develop the new generation of lightweight, foldable and adjustable Invacare power wheelchair.
Using a foldable and lightweight manual wheelchair frame from the renowned Action family, the Esprit Action is equipped with new Alber pneumatic 14'' powered rear wheels. Easily dismountable and transportable, the Esprit Action is promoting an active lifestyle. With removable rear wheels, battery, armrests, and hangers transport weight is reduced to 15 kg.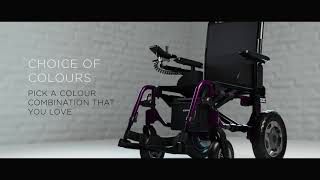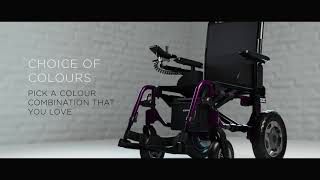 Featuring innovative gyroscope technology, the Esprit Action will provide a comfortable driving experience. The Gyroscope reduces the acceleration when driving up a slope to ensure a safe and smooth drive on inclines up to 6°.
Adjustability of the Esprit Action and cross compatibility with Action family makes it easy to fine-tune to meet clinical needs and provide comfort. A large choice of frames colours and accent colours allow users to personalise the chair and to adapt it to their personality.
Also available for paediatric users, the Esprit Action Junior enables children to enjoy an active and independent lifestyle. The new Junior encourages kids to be kids, be happy, active and ooze confidence.
Key features
 New gyro technology
 New 14'' pneumatic rear wheels
 New integrated design
 Shorter wheelbase
 Lightweight and foldable aluminium frame
 New speed 8 km/h available as option